Transforming our "Long Life" concept into reality.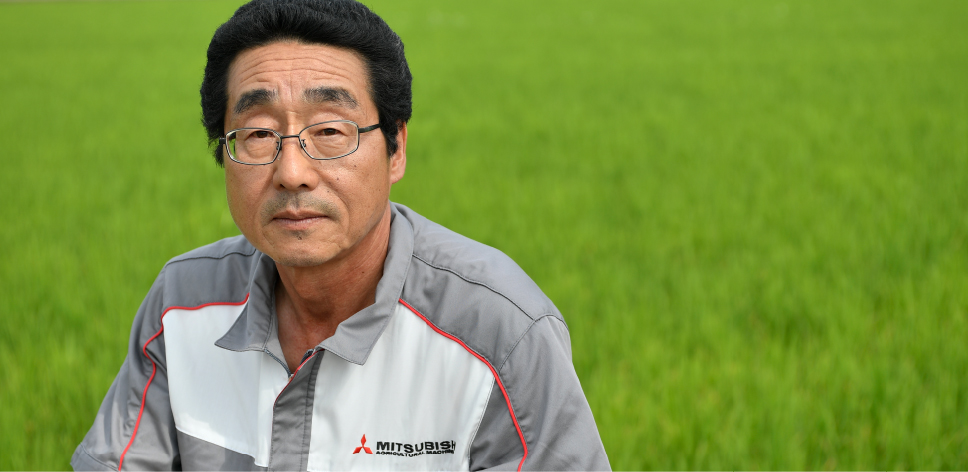 Sales forms the bond between people across different generations.
Mitsubishi Agricultural Machinery Sales Co., Ltd.
Kanto-Koshinetsu Branch, Tochigi Branch,
Branch Manager
Hideaki Kikuchi
(44 years with the company)
Devotion to Mitsubishi Agricultural Machinery for 44 years since entering the company
I engaged in maintenance work for 10 years after entering the company, and then went to the sales section. At present, in three business offices and one wholesale site, I give an advice, manage sales, and simultaneously conduct the sales that are hard to close.
Establish a bond between people over generations
Salespeople should listen to the voices of customers sincerely, build a link to customers, and accumulate trust. In order to turn such a link into a bond between persons, which will last for a long time even if the generation shifts, it is important to establish a long-standing relationship with customers.
Customers think about from whom to purchase, not what to purchase
It is a particular pleasure to win a contract from a customer who does not sign a deal easily, to have a customer appreciate my efforts, and finally choose Mitsubishi's agricultural machine in competition with other companies and be satisfied after actually using it.
To be chosen by customers, I believe that the first thing sales persons should do is to see in the same way that customers do. It is not that we choose customers, but that customers decide from whom to purchase. It is only people that can support machines, people, and people's feelings and thoughts. Respecting customers' feelings and thoughts is fundamental to sales persons.