Enhanced equipment
Enhanced equipment will properly promote the working performance of your tractor.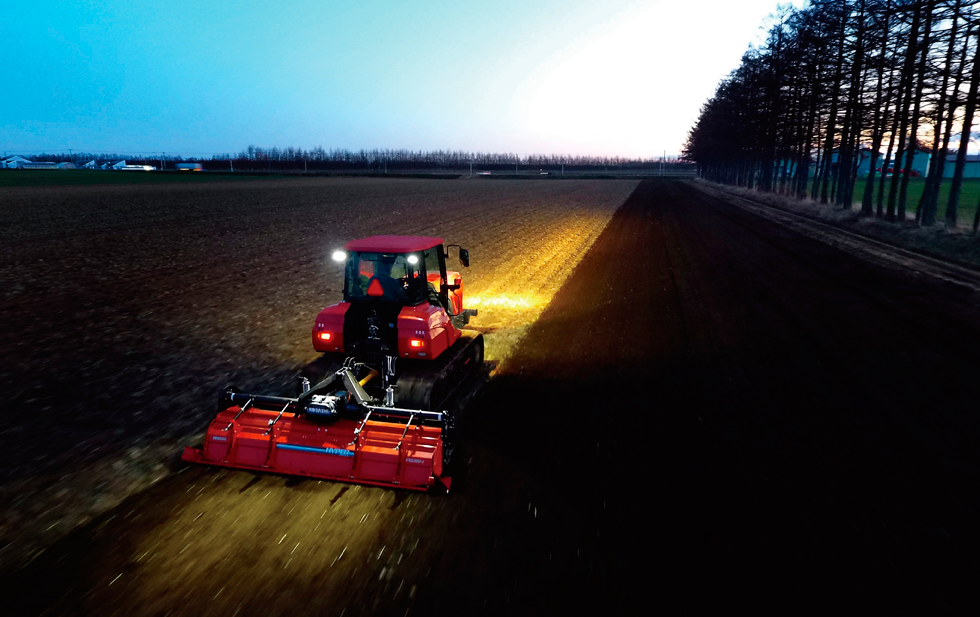 Tilt steering

Easily adjust the position of the steering wheel in line with the riding posture of the operator. The operator can smoothly get on and disembark from the tractor by positioning the steering wheel upwards at such times.

Deluxe seat

Adjust the seat suspension and utilize the swivel feature for a comfortable ride. Work while assuming a comfortable posture and lessen the fatigue of working for many hours at a time.

Engage or disengage the PTO transmission with a one-touch operation

PTO power can be easily turned on or off with the PTO transmission remaining engaged. This is convenient for spreading fertilizer.

Dual lever specifications (V specifications)

Flex your tractor's muscles when performing work for which the tractor is required to be frequently moved back and forth and complex work involving external operations.
Work lights
The tractor is equipped with ten work lights in the front and rear of the vehicle and two headlights. The headlights utilize projector-type halogen bulbs for enhanced brightness perception.
You will be able to work efficiently and with peace of mind since your surroundings will be brightly illuminated when performing work at night.
Intermittent wipers

The tractor is equipped with intermittent wipers whose speed can be adjusted according to the amount of rain falling at any given time.

Radio unit with a USB and AUX port

The tractor is equipped with a radio unit with a USB and AUX port.

Large-capacity 50 A power supply

This power supply facilitates the task of connecting attachments requiring large amounts of power, such as a wing harrow or ridge-coating machine, to the battery.

Accessory power supply

An accessory power supply that can be used as a power supply for recharging smartphones and carrying out other such actions is provided.